Hey there reader!
Welcome to my first travel post! Because I know how inundating it can be to look up travel blogs to get ideas for an upcoming trip, it is my hope that this can be a good one-stop place for you to see my top recommended places to see that I have loved, with entries that are short, sweet and to the point. I want to keep them condensed because, well, I never read other people's articles in full, and always skip ahead to the list of places to see, so I assume you do too.
First on our list of places to see is Chicago!
Truth be told, if I was still a single gal, i'd uproot and move to Chicago in a heart beat. While Chicago living is likely not in my future, it is hands down my favorite city that I have seen in the United States. I love the city's energy, architecture, and history, and if my husband and I didn't want land and open airspace as badly as we do, i'd insist on a short stint in Chicago.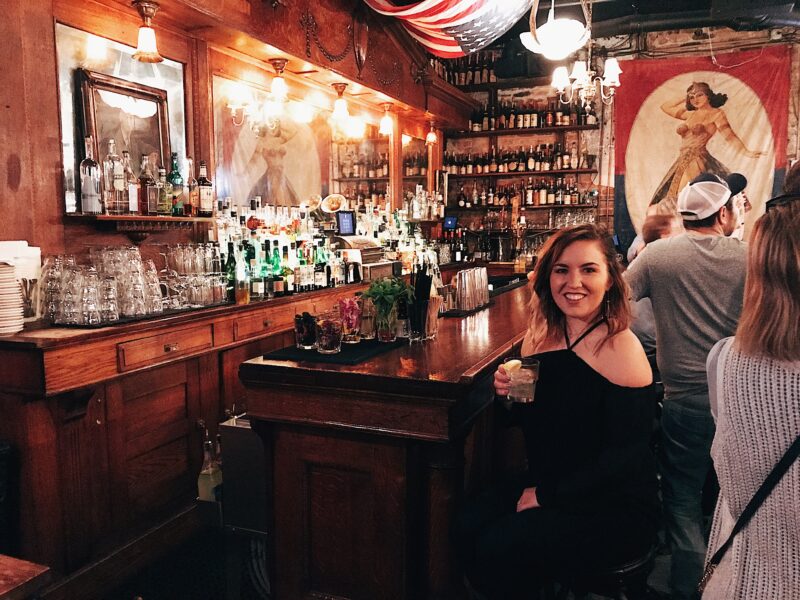 Here are all of my recommended things for this sultry city:
EAT:
The Gilt Bar – I wish I would have taken a picture other than a selfie of my husband and I, because the restaurant had a 'place to be' vibe, and the food was DELICIOUS. Additionally, there is a downstairs library / bar that is a must see.
Travelers Tip: Make reservations ahead of time, dress nicely, and make sure you see the downstairs bar/library before you leave. The library/bar also requires a reservation. If you are a lemon or chocolate lover, make sure you order a 21st century to drink (it's their specialty).
DO:
Chicago Prohibition Tour – This adult only tour was my MOST favorite activity that we did in Chicago and was worth absolutely every penny we spent. This tour takes you to four different bars that were active during the prohibition era, and at each bar, you get a cocktail. The tour guide, while sipping on your pick of poison, tells you all about the bar you are standing in, which was really neat. The tour carts you around on a bus, so no need to plan for a designated driver. We quickly connected with the other tourists, and our tour guide was incredibly funny and very knowledgable. Word on the street is Sidney (our tour guide) is no longer with the company, but if she is still there and you can get on her tour, DO IT. For my other boozy history nuts out there, this is your first must do in Chicago! Above is me in one of the bars, holding a cocktail, and below is me and my main squeeze on the tour, with me holding another cocktail. Disclaimer: You will get drunk on this tour.
The Museum of Science and Industry – I am going to recommend a few different museums, but the first one I would recommend is the Museum of Science and Industry. As non-Chicago natives who have never really used the train system, we got ourselves completely turned around and didn't spend as much time at the museum as we (as in my engineer husband) would have liked, but this place was really cool, and unlike any other science museum I had ever seen. It was very modern and interactive with really cool tours. If you make your way to this museum, I would highly recommend you do the tour on coal mining. As a person passionate about environmental preservation, THAT was mind blowing. We don't have littles of our own, but I imagine this is a very family friendly place to go. Make sure you give yourself no less than half a day to be there, but it's big enough to be there a full day.
The Field Museum – I don't have a ton to say about this Museum, other than it had a lot to see and we enjoyed it. It had a lot of really interesting, and what appeared to be changing exhibits.
The Adler Planetarium – For anyone nutty about the sky, this is a must see planetarium. I have been to a number of planetariums, and this one was far and above a really well done planetarium. Fair warning however, their solar system movie in the dome with the reclining chairs…if you get dizzy spells be careful. That activity had me all twisted up by the end.
SEE:
Walk through Washington Park and on through the University of Chicago grounds – Remember how I mentioned my husband and I don't know how to use a train system? Well we ended up at the end of the line, and this is where we ended up, and it was actually one of my favorite parts of our trip to Chicago. The walk was quiet, and stunning, and honestly just really intimate for me and my husband. We spent the whole walk laughing and admiring the grounds. My advice, mess up like we did and take the same walk. See below for a picture.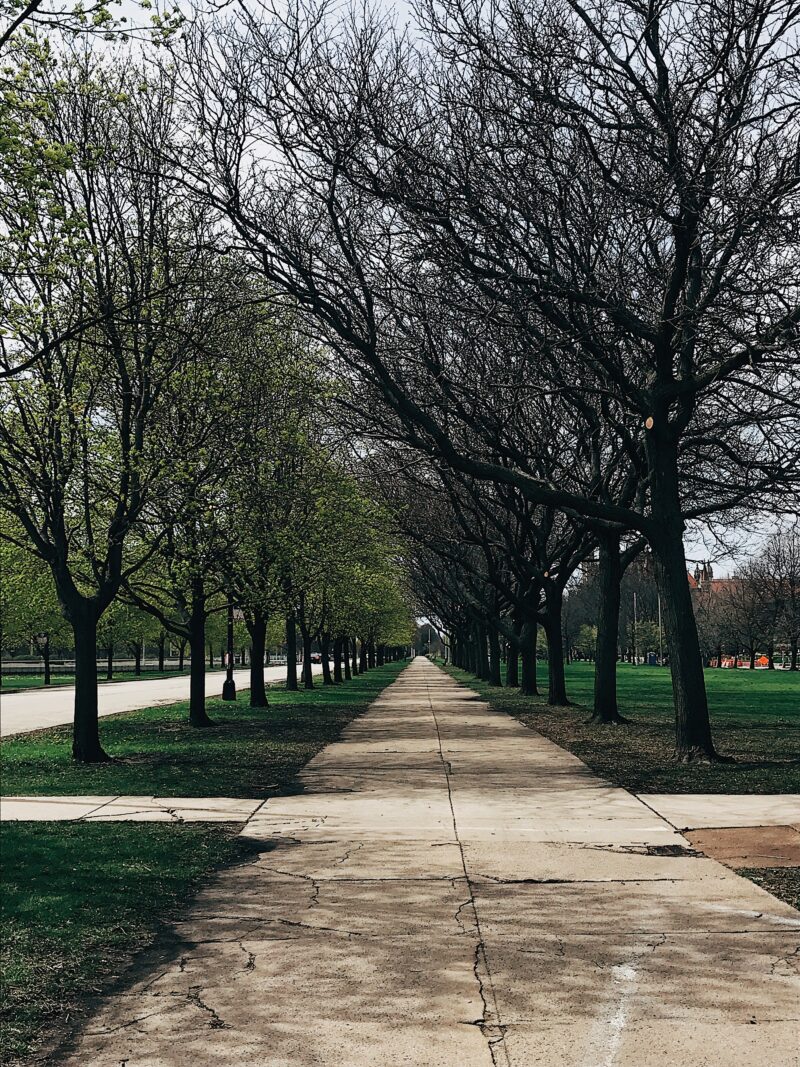 Chicago Riverwalk, Grant Park, & Millennium Park – Several of the parks sit side by side to one another, so you will probably walk through several of them in the same span of time. I would recommend if you are in Chicago, get yourself a coffee one morning and walk all the parks, and along the water. It's pretty, and relaxing, and interesting to look at the architectural contrast of the city on one side, and the water on the other side. Plus, it's a good time to go see CloudGate, otherwise known as the "bean." Good luck trying to get a photo in it without people in the background…I found that area of Millennium park to be very busy.
The Green Mill – This famous jazz bar was well loved by Al Capone, and my nerdy butt got to sit in his booth, and I loved every minute of it. The music was excellent, the floor a little crowded (with locals which was really cool), and the drinks were really yummy. I would highly recommend if you love jazz (who doesn't?) that you make a stop here.
Travelers Tip: Get there early if you want to sit, and when they say no talking, they mean no talking. You will get scolded by the barkeep if you talk when the music is playing, so if you are looking for a place to chat with friends, this isn't the place. Music is revered here.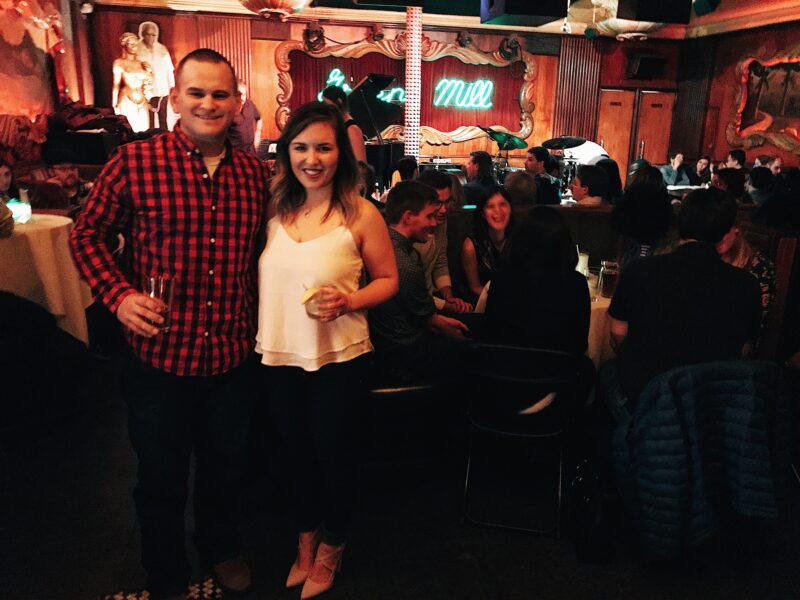 Skydeck – Last on the list of places to see is the Chicago Skydeck. This is absolutely a tourist attraction, but is absolutely worth the adventure. The view from the deck is beautiful.
Travelers Tip: This place & the deck will be crowded, and is not advised for people with a phobia of heights.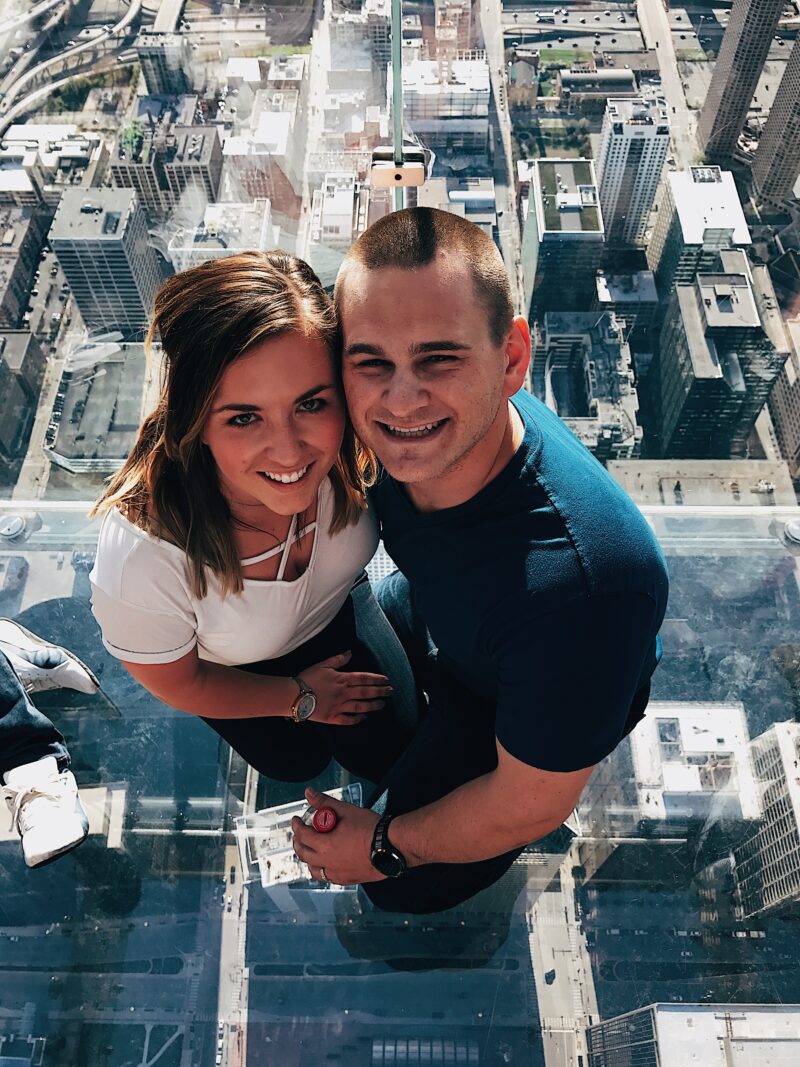 Happy Travels adventure lovers & cheers!
Taylor Patrice