Dear Reader,
*For those of you looking strictly for travel tips, scroll to the end. Except instead of skipping, I would read until the end. The travel story part includes good information for contextualizing your experience.*
I have often wondered how so many people, specifically Jews, were successfully executed in WWII.
1.6 million to be exact. Just at Auschwitz-Birkenau alone.
We grew up learning about the Holocaust, the Nazi party, and the history of WWII.
We read the diary of Anne Frank and learned about the work of the allied countries.
Though we know it happened, and though we understand the devastating role WWII plays in our history, it's hard to contemplate.
The piece I have always struggled with the most is understanding how so many people were successfully transported across several countries and funneled into gas chambers without a full on rebellion. It's hard to understand how millions of people were killed without a full on fight for their lives.
It's unfathomable…until you visit Auschwitz.
What we learned on the tour was that all of the people that were transported to concentration camps during WWII were told they were being relocated. This was evident in the items they carried with them. Pots for cooking, men's prayer shawls, and women's Sunday best shoes were stacked high in piles.
Among the things that struck me the most was seeing the goods they carried with them. They really, truly believed they were being moved to a new location. With them they carried the few things they believed they needed to start their new life.
It made me feel so close to the people. It made me feel like I could have been one of them if I wasn't born in a different time. If I was taken from my home and told I was to be relocated and could only take what I could carry, I too would take a pot, my warmest coat, a pair of good shoes, a Bible, and photos of the people I love.
It's one thing to see these relics in pictures.
It's another to see it in person.
And it is, and should be, deeply sobering.
It's sobering from our privileges we so often take for granted. 
It's sobering from our own sense of self worth in this big complex world.
It's sobering, in such a way that reminds one of the fragility of life. 
Rather than wondering about how you can occupy more space in the lives of others with our sense of self importance, you walk away wanting to occupy less. To be more for the world, without occupying more space.
If there wasn't so much foot traffic and noise, I think you could feel the remnants of the ghosts. 
And I say 'remnants of ghosts,' because after seeing it in person, I don't even think the ghosts would want to be here in the afterlife.
We learned that after dismounting the train, many of the women were warned to hand their babies off to the elderly and maybe they would survive. 
I can't image that feeling. 
We learned that after the bodies were killed, their hair was shaved from their head and used to make textiles and mattress fillings for the war. Auschwitz has a room full of braided hair that had not yet been shipped at the time of the camp's liberation. Its about 8 feet high and several meters long, and impossible to imagine.
Due to the museum's regulations, this could not be photographed.
We learned that the millions of bodies created so much ash, that the ash was taken to nearby farms and forests to use as fertilizer, to create more crop for war.
That fact – that one got me the most. As you read this, I hope you let that sink in.
It is all so sobering.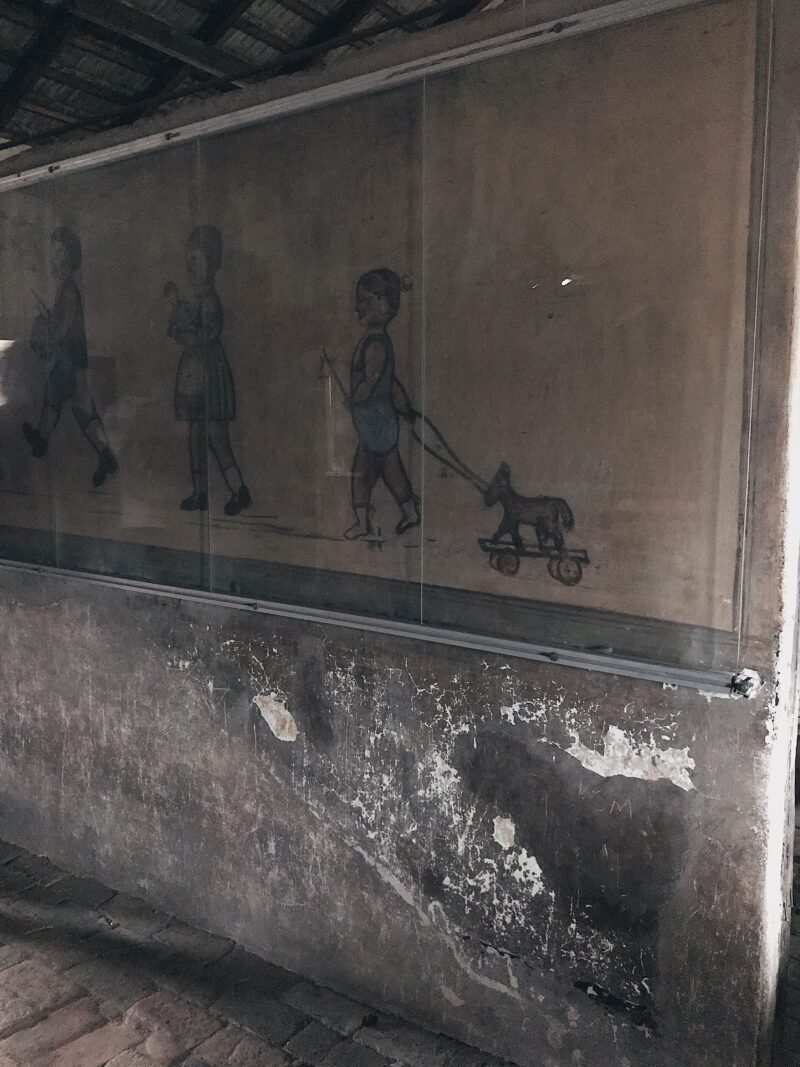 The children, now this is what fascinated me. The children had drawings all over their bunks and walls. The drawings were done by the adults living in the concentration camps. Even in the deplorable and starved conditions, the adults wanted to make the children feel more at home, so they drew pictures of little children and animals to calm to littlest camp dwellers.
If I knew how to write where I would pause in a speech, it would go here.
The angel of death was very busy these years. I imagine if the angel had bones and tears, the angel would have been broken and dry, so tired of the holy work the angel was called to do.
It is all so sobering.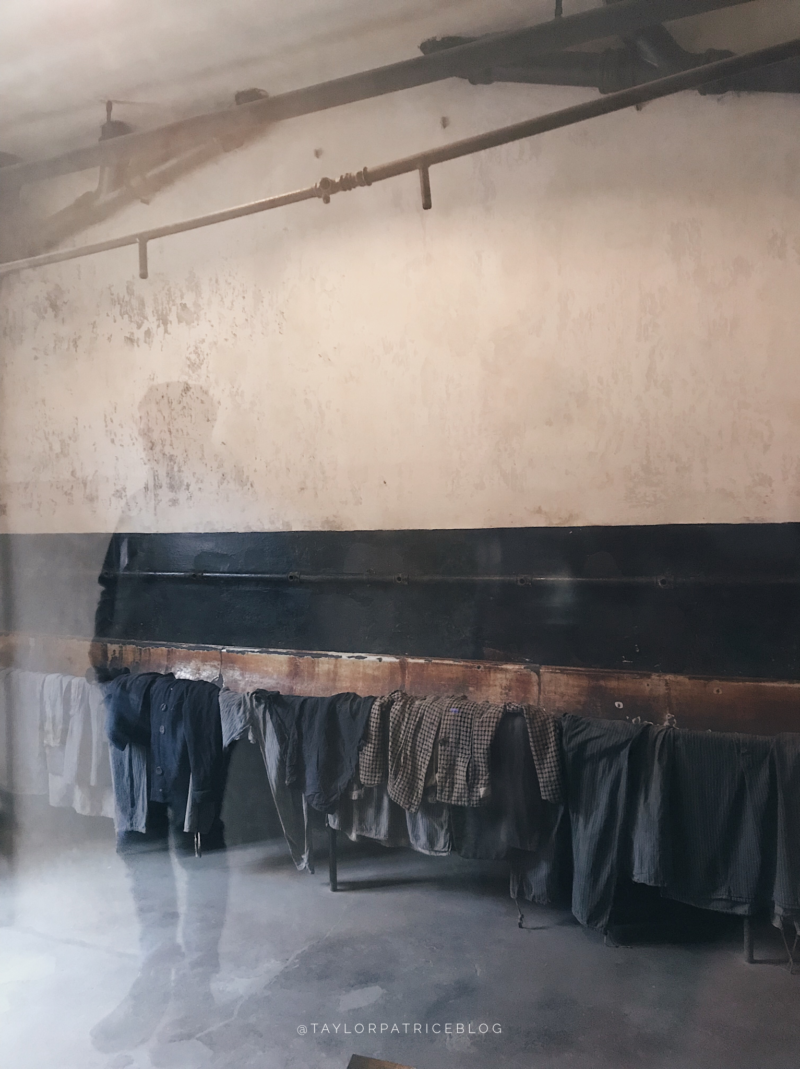 Here is what I encourage you to keep in mind when you visit a concentration camp:
The world needs people to remember.

Few remaining people who survived to tell the story will soon no longer be with us. When you are at a concentration camp, be there. Feel it. Let it wash over you. Let it consume you. It's going to feel like a lot of different things – gratitude and anger, confusion and heaviness, darkness and questioning and sobriety.  Be deeply engaged in feeling this experience. You are the human continuum. Being in this place is a privilege that so few will ever get to do, so feel it, and help to carry the torch of never letting it happen again. Humans are so quick to forget. Don't let them.

Gratitude is a weird word to describe how you might feel in a concentration camp, but you may very well feel it. It isn't gratitude for what happened, but rather that you were not part of it, and never went through it. Trust me, it feels weird, but you just might feel it. 
This is a grave site.

I contemplated making this the first point, but I decided not to lead with this one. Please remember you are at a grave site. This place, and the people who lost their lives here deserve your highest level of respect. The following things (that I saw and you may too) are not appropriate – taking personal phone calls on the tour, taking heavily posed instagram photos on the train tracks of the site, throwing your trash out on the ground where there is no receptacle, or making racial jokes. All of this is very disrespectful. When you behave in a distasteful manor, you are demonstrating your lack of understanding of what happened at these camps. You are demonstrating your lack of empathy. It is a privilege to lack understanding of what happened here, but it will never be appropriate to behave this way. And I cannot stress this one enough – to the people who take posed selfies in concentration camps (otherwise known as a form of dark tourism), I'm not a violent woman, but you sincerely make me want to punch you in the face. Im all for love and light and educating people, but if I am being honest, I wonder if you people can be helped. Seriously, fix yourself. Immediately.

Don't touch anything. 

To add to point number two, don't touch anything. Don't write your initials. Don't try to take a brick. Don't scratch at the walls. This is not your place. Nothing of you belongs here. And nothing of here belongs to you. It belongs to the dead. And it belongs to the world who is trying to practice point number one.  This place needs to remember the dead. Not you. Leave it alone. Survivors had to work really hard to preserve it.

Meditate on what you learn.

Concentration camps can be busy sites to see. If you don't have time because you are being shuffled through quickly, take time to contemplate afterward.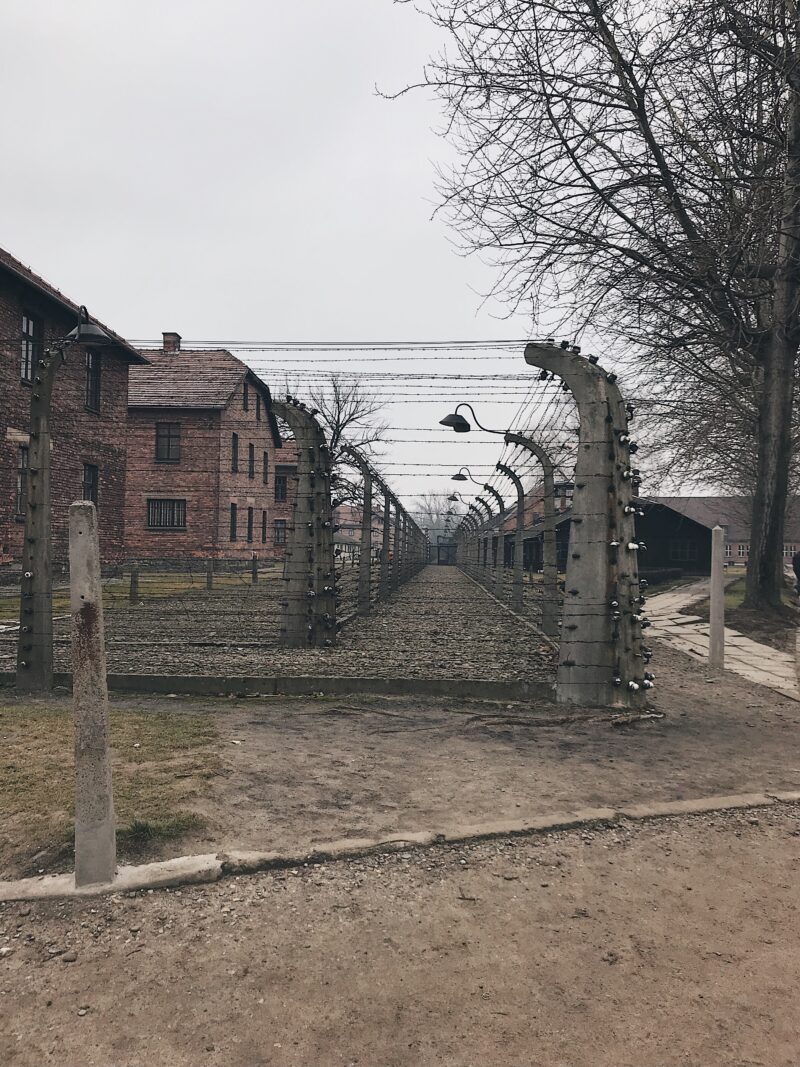 Tips for seeing Auschwitz:
Pay for the guided tour. 

The camp is well preserved, but you won't understand the significance of some of the things without a tour guide telling you about them. They add a lot of value to the experience and there are several different language tours. The tour takes about 3.5 hours and takes you to both Auschwitz I & Auschwitz II.  

Dress appropriately.

This means two things. Dress like you are going to a place of respect. And dress weather appropriate. If you go in the summer, wear walking shoes. If you go in the winter, wear layers. No part of the tour is warm if you travel in the winter. This should tell you how hard the place had to be to live in.

Get there early.

It's a really busy camp. Arrive early so you can get into your preferred language tour. The camp is about an hour outside of Kraków, and mostly on back roads so I would recommend waking up early.

Stop at the book store.

The book store has some really unique books. Some you can find on Amazon. Some you can't. I would recommend stopping by if you like to read.
Happy travels dear readers. If you have the chance to do this, I would highly recommend you do. It adds a depth of understanding about the human experience that a history class will never give you.
What a beautiful thing it is to travel in such a way that you witness the world.
Taylor Patrice