Guten Morgen Readers,
As I write you this post I am sitting in a nearby bakery, sipping a cappuccino and eating a chocolate croissant made fresh this morning by the shop owner, Helga. It's the quintessential experience we think of when one thinks of Europe, and I have fallen in love with it over the last few weeks.
We officially landed safely in our new host country and we have (almost) successfully beat jet lag. For those of you who haven't had jetlag before, I think I spent three days brain drunk and dehydrated – it's a lot harder than I expected.
We are still living out of a local hotel, the dogs and I are on a several day long stand-off over who gets to sleep on the mattress and who gets to sleep on the floor – they seem intent on trying to get me to take a shift on the floor and I seem intent on giving them booty spanks.
Since arriving we have also purchased a car – a zippy little stick shift BMW that makes me grateful my dad first taught me to drive on a manual, because I have only killed the car trying to relearn half a dozen times instead of the alternative…any higher number.
Throughout the last few weeks while we have been in-processing, Eric and I have enjoyed walking around the local communities, eating (a lot of) whatever the heck we want, and sipping on beer. The beer is delicious, and cheaper to drink with meals than water, so as they say, "When in Rome," except instead we just drink like German's now…not a difficult undertaking for us. I have also enjoyed in partaking of the wine. German wine doesn't get the credit it deserves in the lineup of European wine. It is REALLY good. Thank God the military will move our wine when we move back to the states because I am already well underway to having a small but respectable collection in my hotel room. Wine is also cheaper than water, so when I tell you I am writing over wine, which is probably every post for the next three years of my life, I am not developing a problem – I am just assimilating.
A few of you have written in and asked if we are losing weight, and while I strongly believe that we shouldn't we talking about weight so much as fitness and overall wellness, I can tell you that despite the fact we are consuming copious amounts of fresh bakery bread and schnitzel and beer, we are indeed losing weight. This may be a testament to the fact we walk everywhere, but I think it has more to do with the fresh ingredients. I have yet to have pasta here that wasn't made fresh from the restaurant, and some variety of vegetables come with almost every meal, the meat is fresh, untreated, and locally sourced. The locals eat carbs, but stick to a relatively high fat and super fresh diet, and the carbs are a lot less present than I expected. Boards of olives and cheese and sausages seem to be a staple around here. More importantly than my thinning waste line is the fact that my asthma hasn't acted up once since I have been here, and I have had active asthma since I was a baby.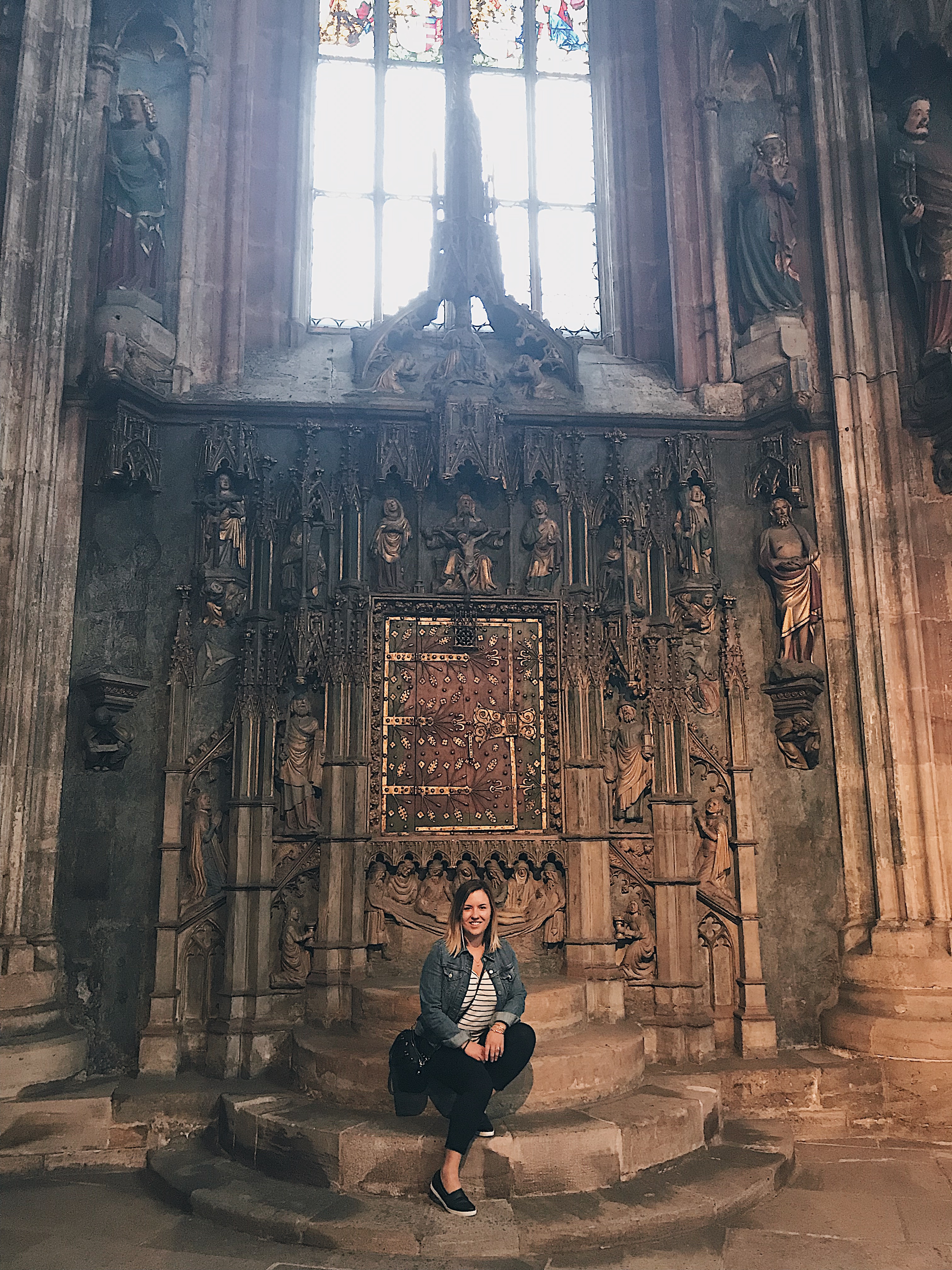 So far we have travelled to several of the local villages, and a few larger cities. For my birthday, Eric and I went to Rothenburg ob der Tauber, and stayed in a castle in Colmburg. We toured the medieval city, sipping wine and eating fresh salami and cheese off of sticks (as seen in the main picture of this post). We also purchased our first beirstein and stocked up on reusable bags. It was romantic and bonding and such a lovely experience to have with my favorite person.
While I refuse to believe that comfort and style do not mix, Rothenburg quickly taught me that I will be trading in my high heels for the next few years, for a more practical Nike – even in my running shoes I was feeling my knees by the end of the day because while the cobblestones are stunning, they are also highly unforgiving.
I think what I have fallen most in love with is the churches (as seen above). I'll probably do a long and dedicated post to the churches here, but in the meantime, I will just say those are my favorite thing to explore so far. I am in awe of what (wo)man's piety and reverence for God has driven (wo)man to create and dedicate their lives to, and that generations following in their footsteps take up the same devoted calling. Here are just a few pictures of things that had me speechless.
Our last big bit of news is that Eric and I are in the process of becoming placement providers for kiddos in the military – equivalent to the foster care system. We have thought long and hard about it for a couple years now, because our military experience has also afforded us the chance to see a lot of systemic need. We were going to become placement providers in Missouri, but due to the nature of my previous employment, there was a conflict of interest and we could not be placement providers. As Eric and I are strong believers in helping families, with a special place in our heart for military families, we are in the process of becoming a placement option for kiddos. It doesn't mean our house will always be full of babies, but it does mean that if a child needs a place to go, they will have a chance at one. I will talk more about this in another post.
In the meantime readers, I have hit the bottom of my cappuccino cup, and the church bells are ringing in the background, and Hennessy and Luna, our international pups, are ready for a run and a visit to Olga, the local butcher and their new favorite person. Keep an eye out for the upcoming travel blogs. They will be full of wanna-be professional photos of pretty places that don't do the scenery justice, and travel tips from your favorite globe trotter.
Prost,
Taylor Patrice