Dear Readers,
Every year, New Years comes around and we are inundated in reminders that we need to make New Years Resolutions. I'm never ready because I am always still coming off of some ridiculous sugar high. Plus, nobody wants to think about all the things they need to do to be better when we have all squeezed a bunch of "cold weather reserve" past our waistline's capacity, and are trying to reconcile cookies with kale. I am just not ready, and neither is my left over champagne.
Well, here at the blog we took our 20+ days of meditative reboot and prayer time and thought about where this blog is going.
In the last twenty or so days I have spent a lot of my spare time looking up political blogs. I want to get more into political blogging because I got a bright idea three years ago to double my school debt, and now I am almost done with this ass-kicking masters in political science with a focus in global and national policy. I believe that intelligence comes with the responsibility of making the world a better place, and since I now have a piece of paper that says I am intelligent (cue thick sarcasm, [except I really did learn a lot]) I want to put my brain to work.
That, and because I believe loving people means creating practical systems to increase their quality of life and their ability to succeed, I want to love on you by caring about the policies that affect your life, and I want to write about it.
Thus, we are upping the ante at the blog.
Well what the heck does that mean?
You may have noticed I revamped the menu of my blog. As the content grows, so must the platform. What you may not have noticed was that there is a whole new section dedicated to politics.
Yeah, you read that right…politics.
Now before you go and unfollow me on literally everything because you are so sick of "joe-schmoo" politics and ugly political discourse that stems from people's emotions + everything being a confused cluster-fuck, hear me out.
In my pursuit of finding political bloggers, I was really sad to find very few female political bloggers, and even fewer credible ones. What I did however find, was an op-ed piece about why there are so few female political bloggers.
I'm not going to bother linking it here, because I will not validate the first point being that women don't care as much about politics, but other than that, they made a few good points.
They pointed out that women are less frequently invited into the political fold, and that our work tends to be in the crossfire more than mens. THAT, I can get behind.
In this confused world, we deserve voices that don't just lace their words with personal opinion (opinions run cheap these days), but we deserve informed voices…and we need more of them.
I would like to be one of them.
Love em', hate em', either way they affect your life, and we need to talk about them.
So here at the blog, we are going to get a little more political.
Because you deserve someone whose political engagement is a love letter to humanity. And that's what politics is for me. For me, politics is recognizing you. It's recognizing your life, the broken systems within which you operate, and the quality with which you live it. It's an act of recognizing your humanity, your needs, your hopes, and the rock and hard place between which you sit.
Because you deserve to be the focus of politics, rather than the collateral damage of them. Politics are supposed to balance what the best life for people is, and then work to achieve that. I want to talk about your best life in all respects. Practically. Spiritually. Relationally. Physically. Politically. All of it. That has been the theme of this blog, and will continue to be the motive behind all political talk.
Because I care about you and because I think you deserve a writer who talks about the hard stuff from an informed position.
And because I paid a lot of good money to know how to understand systems, to research, and to have an idea of what I am talking about. (Though I strongly believe a formal education isn't what makes you smart, it doesn't hurt to stack the deck in your favor.)
In this pursuit of harder content I will list my sources or indicate that it is an opinion editorial.
Don't worry, this blog will still be riddled with all the heart stuff and travel photos that have become the signature of this platform. I don't believe that we as people need to compartmentalize who we are…to be "either, or" versions of ourselves. So the dog pictures and love stories stay. And the personal touch of this blog isn't going anywhere either – I refuse to trade in my blog's style for the aggressive reds and blues that characterize most political blogs. I can like the color blush and write about friendship and take selfie's with coffee cups, and still want to kick your ass in Congress one day, damn it. It's just going to begin to incorporate deeper practical thoughts and opinions about the world, and the politics that govern it.
We need tangible solutions, we need leaders, and we need them now. I hope to continue to be one of the trusted voices you read and engage with.
Xo,
Taylor Patrice
For those of you who are wondering – yes I am nervous AF. These blogs will not only be featured on my platform, but others as well, thanks to new partnerships. And like every other person on the planet, I don't love criticism. But we deserve to be simultaneously in awe of the world, and practically invested in it's well being without being termed a radical or becoming divisive. I'd like to think I have this gift. If I don't, well, I can't be worse than anyone else in charge right now.
Stay tuned.
You are loved.
Here is me in front of one of my future offices.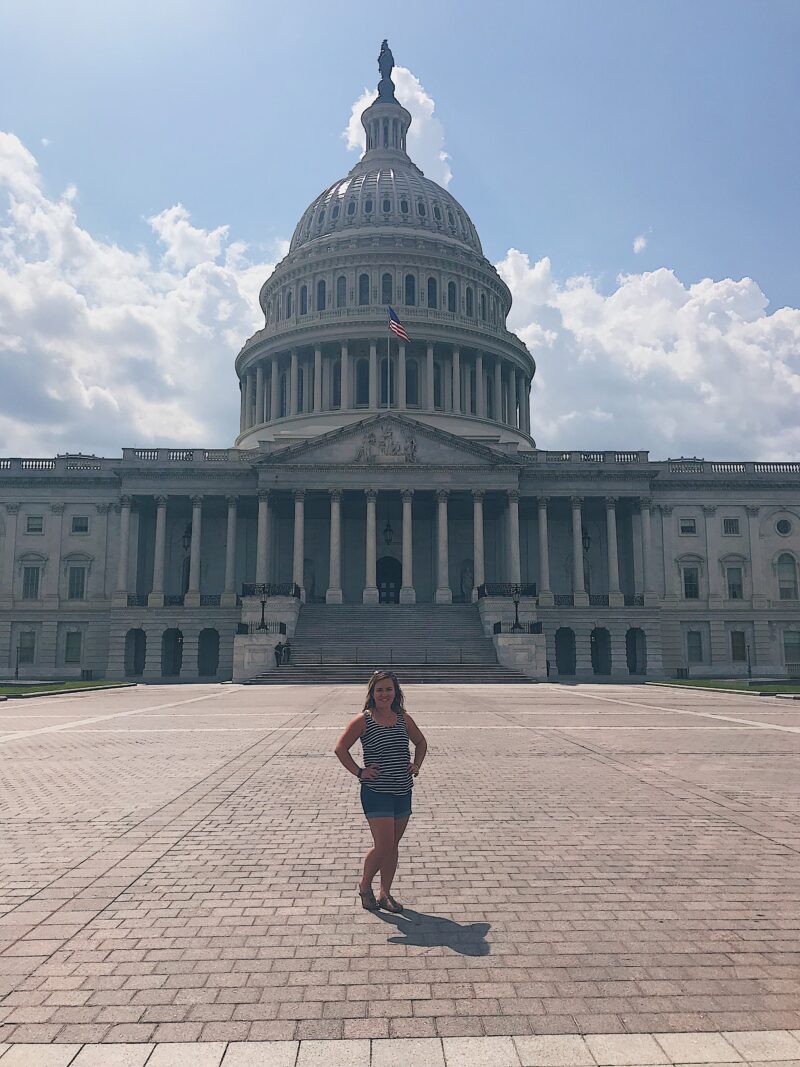 Please remember that if you love the world, you should be dynamically invested in protecting it, and if you don't love it, then you should be part of changing it. Either way, your participation is necessary. Keep joining me here.